Tempo di lettura:
< 1
minuto
Classico malware dello spedizioniere questo Avviso affidamento spedizione dove ti fanno credere che qualcuno ti abbia spedito del materiale e ti invitano a scaricare dei documenti che, in realtà, sono virus, trojan o malware in generale fino ad arrivare al Cryptolocker.
in questo case, segnalato dal nostro lettore Patrick che ringrazio, il mittente è SCRIA Office SRL <info@scria.org.au> ma potrebbe cambiare e il testo dell'email è
Signore e Signori,
la informiamo che FLM SYSTEM DI EDIFICANTE FERDINANDO ci ha affidato in data 17/10/2017 una spedizione a Lei destinata.

La consegna é prevista il 20/10/2017 indicativamente dalle 11:00 alle 14:30
Per ulteriori informazioni sulle informazioni sulle consegne, controllare il file allegato
Scarica e controlla le informazioni di consegna

Copyright © 2017 SCRIA, All rights reserved.
You are receiving this email because you opted in via our website.

Our mailing address is:
SCRIA
PO Box 414
Seaford, VIC 3198
Australia

Add us to your address book

Want to change how you receive these emails?
You can update your preferences or unsubscribe from this list.
che ha questo aspetto, giusto per darti un riferimento visivo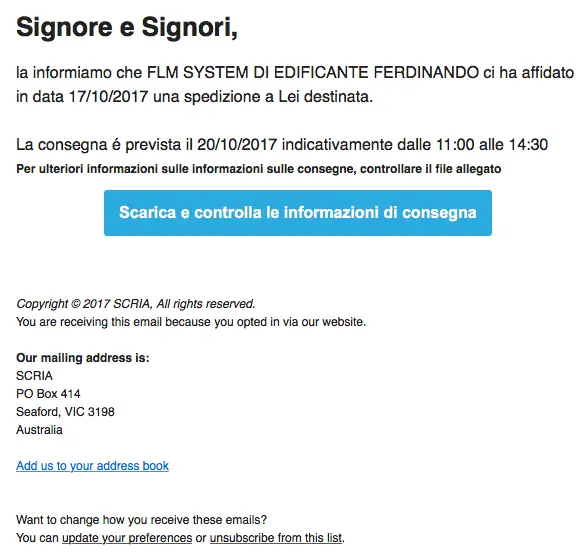 Se per caso clicchi sul pulsante, al posto delle informazioni di consegna ti scarichi un qualcosa di nocivo che non ho potuto verificare perché già sparito quando ho cliccato.