Tempo di lettura:
2
minuti
Tempo fa avevo segnalato un caso di phishing Netflix che era in inglese, segno inequivocabile che c'era qualcosa che non andava. Ecco invece ora un phishing Netflix secondo atto sempre in inglese ma dai contenuti differenti.
L'email ha come oggetto ΝEΤFLIχ Αccουnτ Update – Receipt#547980 e arriva da ΝEΤFLIχ postmaster@albnetflix.fr.
Come riconoscere il phishing su Netflix
Tre elementi in questa email
Nota subito l'uso di caratteri greci al posto di quelli standard inglesi o italiani. Invece di NETFLIX Account Update trovi scritto ΝEΤFLIχ Αccουnτ Update dove in grassetto ho evidenziato i caratteri greci utilizzati che somigliano a quelli latini ma sono utilizzati per cercare di ingannare i filtri antiSPAM, peraltro senza riuscirci. Questo dell'uso di caratteri di alfabeti non latini al posto di quelli standard è un trucco spesso usato ma ha l'effetto di bollare irrimediabilmente un'email come tentativo di phishing perché se ti dovesse scrivere veramente Netflix, non userebbe sicuramente sistemi come questo.
Il secondo elemento è che un'email da Netflix arriva da netflix.com e non da albnetflix.fr
Il terzo elemento è l'uso dell'inglese quando Netflix è tradotto in tutte le principali lingue. Se hai un account italiano ti scrivono in italiano, non in inglese.
Ecco l'email in formato testuale
We recently failed to validate your payment information, we hold on record for your account,
therefore we need to ask you to complete a brief validation process in order to verify your billing and payment details.

Click here to verify your account

Failure to complete the validation process will result in a suspension of your netflix membership.

We take every step needed to automatically validate our users,
unfortunately in this case we were unable to verify your details.
The process will only take a couple of minutes
and will allow us to maintain our high standard of account security.

Netflix Support Team
This message was mailed automatically by Netflix during routine security checks. We are not completely satisfied with your account information and required you to update your account to continue using our services uniterrupted.
e in formato immagine così capisci anche come si presenta se dovessi riceverla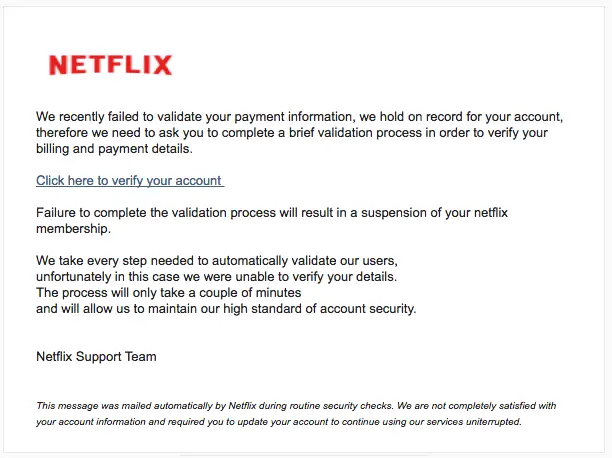 Cliccando sul link appare una bruttissima copia del sito Netflix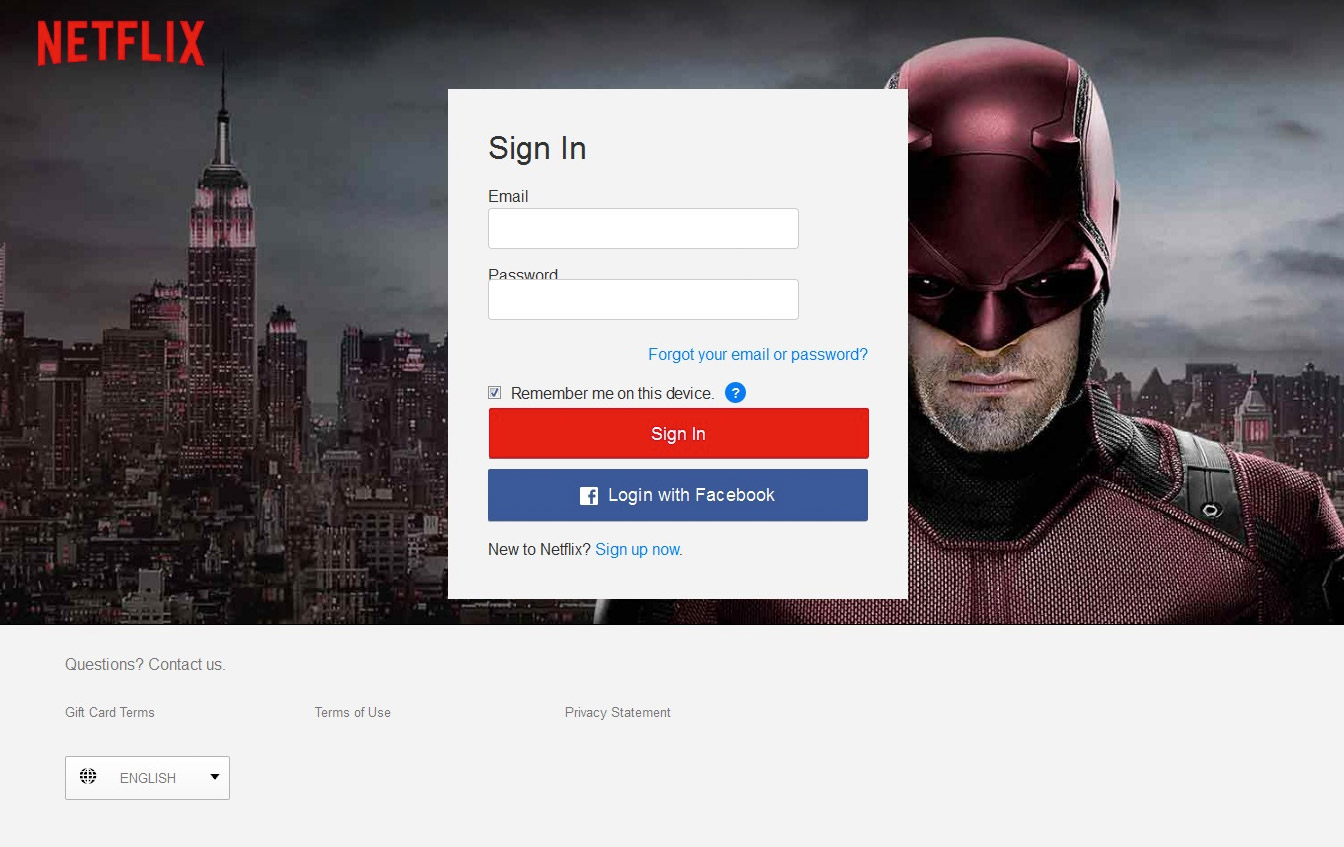 che ha questo url, palesemente falso

Ovviamente non mi sono fermato e ho inserito dei dati falsi. Prima mi è stato chiesto di aggiornare le informazioni personali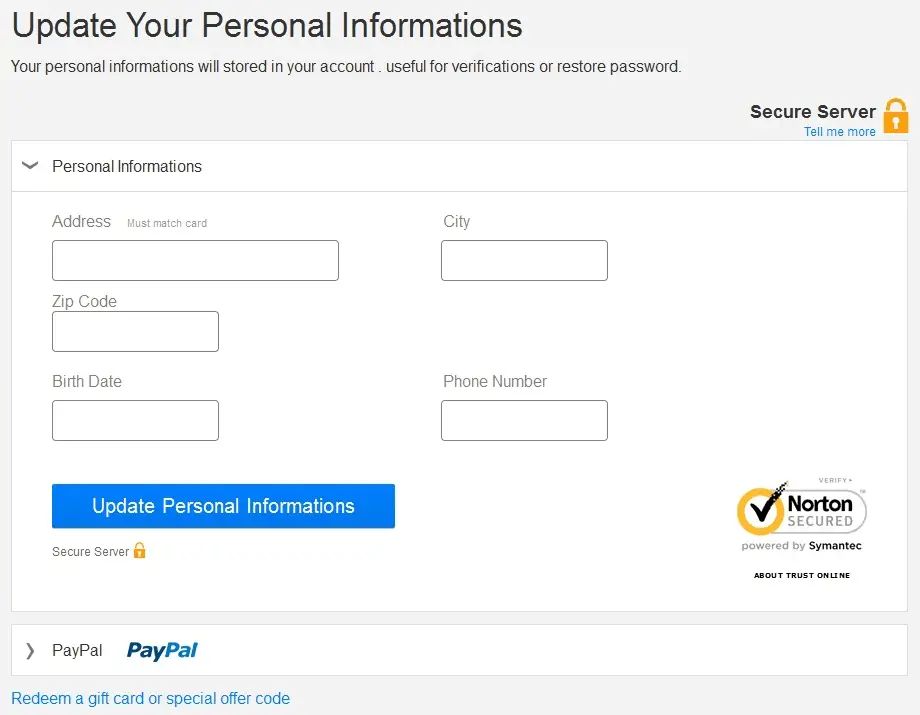 e successivamente di inserire le mie informazioni di pagamento. Sempre qui si va a finire!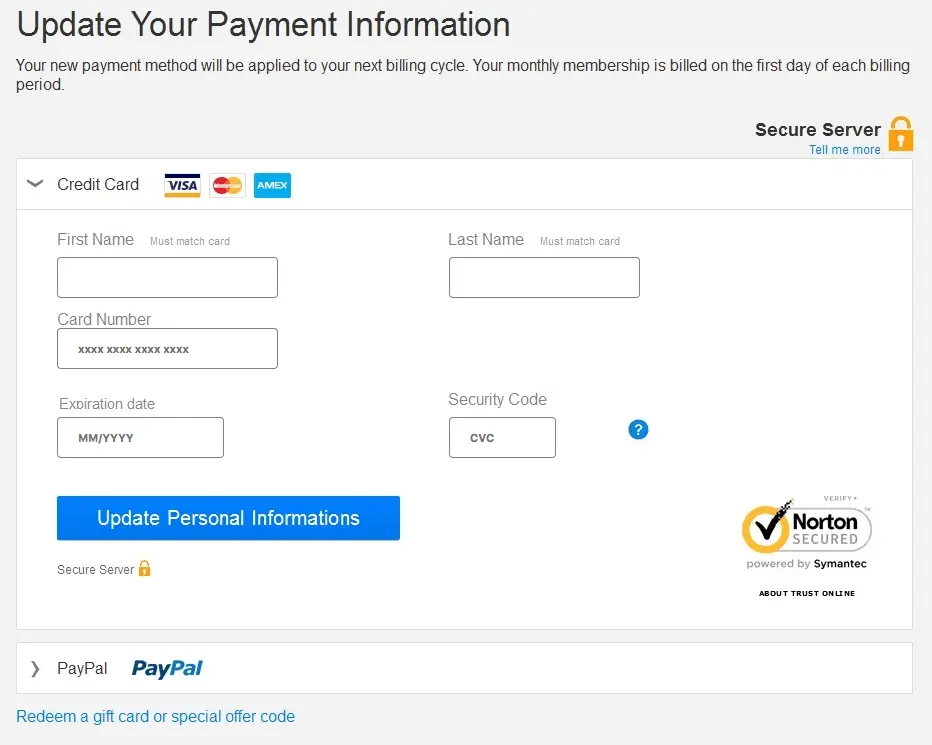 Questa email è in inglese ed è più semplice da scoprire perché se Netflix dovesse scriverti, lo farebbe in italiano e non certo in inglese, ma siccome ultimamente di queste email – in italiano – ne circolano veramente tante e distinguerle è difficilissimo, ti consiglio di dare un'occhiata alle altre email di phishing Netflix che stanno circolando.
Come sempre, fai attenzione!!!